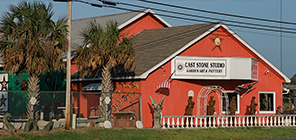 Cast Stone Studio is proud to present our timeless garden art collection. Our collection includes antique reproductions and original designs. For over 20 years we have strived to supply our customers with the highest quality cast stone in a variety of styes to accent any home or garden. Take a journey around the world with our statues, we have an eclectic mix – everything from Easter Island heads to Asian Buddhas, from Celtic to Mediterranean statuary.
Cast Stone Studio is a family owned business located on the beautiful Outer Banks of North Carolina. Our products are hand-poured and finished right in our shop. We take great pride in our work. We start with only the highest quality raw materials to insure a great product with or without a finish. Customer service and quality products have always been our goal.
We'd like to thank our loyal customers for their continued support over the years and welcome new customers who are discovering us for the first time.